When compiling a hotel photography portfolio, a full exterior shot of the property is always at the top of the list. Marketing professionals need this basic shot for many uses. However, although the shot is standard, the impact of a unique image can be surprising. I always challenge myself to find a way to make a hotel exterior shot distinctive, either by shooting at dusk, from an unusual angle, or including something unexpected in the frame.
Many photographers and marketing professionals only schedule hotel photo shoots during the daytime, but I always try to explain how lighting, especially evening shots, can create a completely different quality. I spend a considerable amount of time noticing the light at different times of day and night. A daytime shot might show off the lovely weather and appealing landscaping, but an evening shot creates a cozy and welcoming ambiance, and an air of sophistication, even for more budget-friendly properties.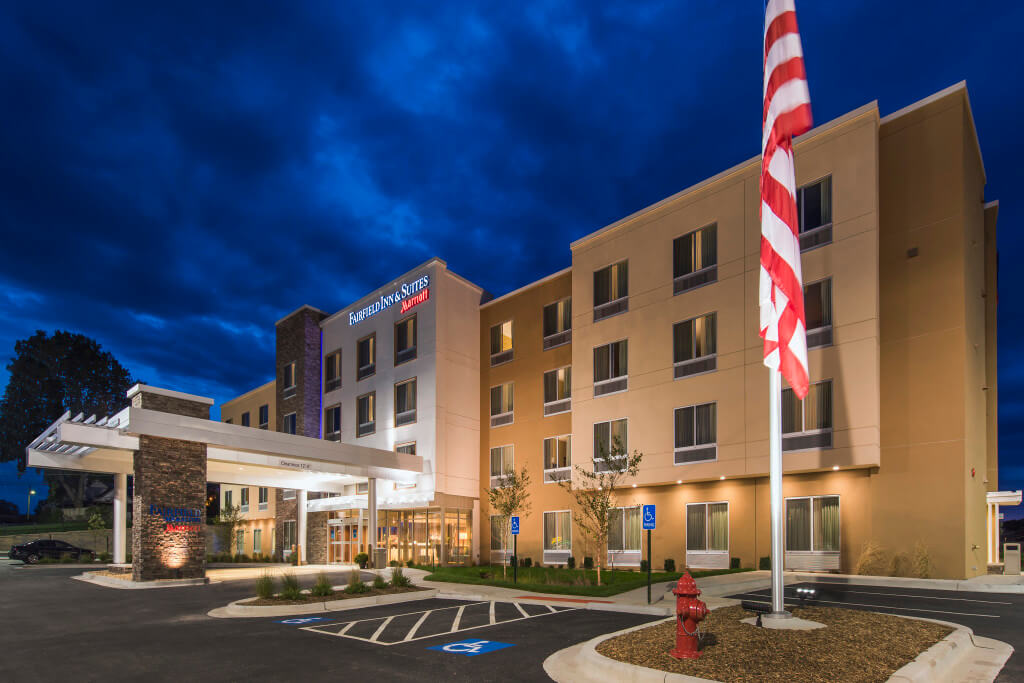 Larger properties often have their own "wow" factor just with their size and often more interesting architecture, yet there is always a way to create a more impactful image. The Cromwell, in Las Vegas, showed off well with a bit of an up angle. The shadows on The Cromwell lettering add drama that balance the illusion of motion of the traffic and escalator.
Setting up the full exterior of the Wynn, also in Las Vegas, posed a bit of a challenge. The landscaping and vegetation made street level shots impossible. For these shots, I had to carefully take a few risks, and perch at the hotel across the street. I spent the entire afternoon watching the effects of the natural lighting and was able to capture the sunset reflection as well as the equally dramatic evening shot.
Featuring the brand signage is also a necessity for most properties' hotel photography, but can also be very uninteresting. Finding ways to make this standard shot more creative has become a personal challenge that I now enjoy. Often just changing the angle can add interest. Combining this with a focus on the clean lines of the architecture, ultimately became one of the client's favorites.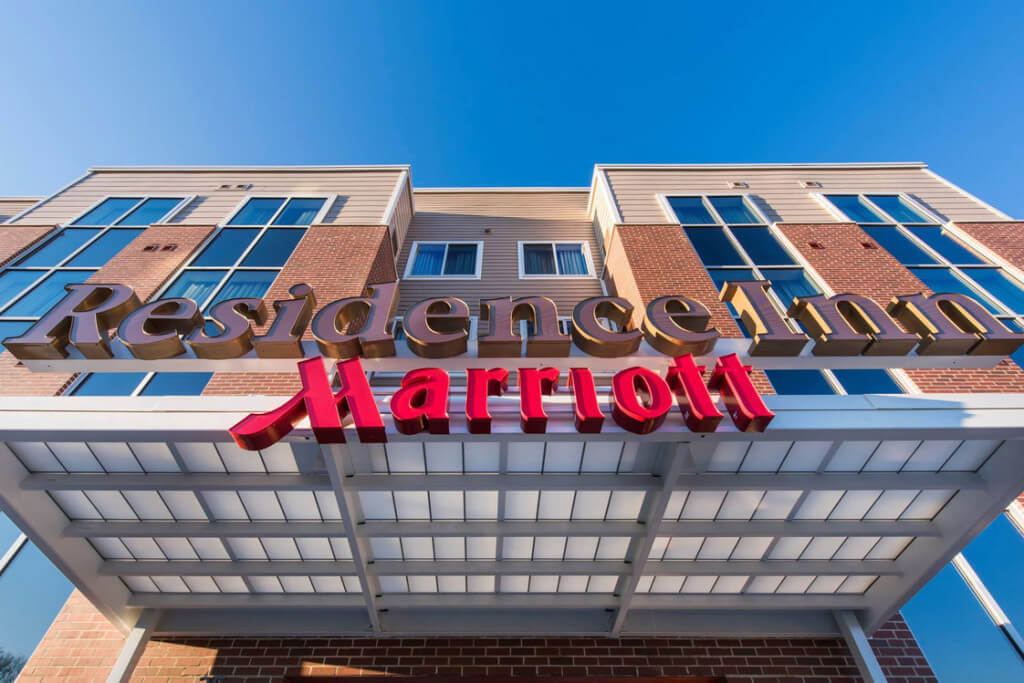 Some photographers might avoid shadows or even Photoshop them out later. I intentionally wait for the perfect time where sunlight casts appealing texture or defining patterns, such as this palm tree shadow on an Arizona hotel exterior. It almost subconsciously adds a bit of a relaxed and "vacation" feel to the brand. This is a great shot for a property that is normally a business property, but would like to attract more leisure travelers.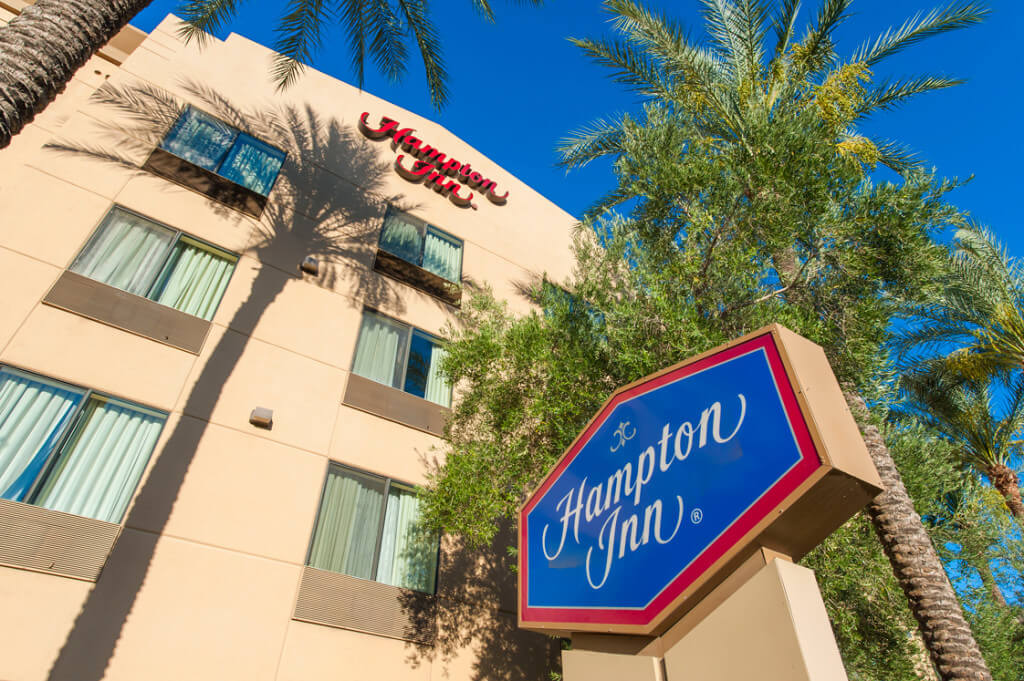 In this shot, I also exploit the lighting and angle to create a more interesting image. The darker left side of the shot with the uplighting on the lettering is dramatic, yet the angle and brightness of the right side draws the viewer into the lobby of the property. A truly welcoming scene. Anyone can imagine gladly arriving at this property after a long day of travel.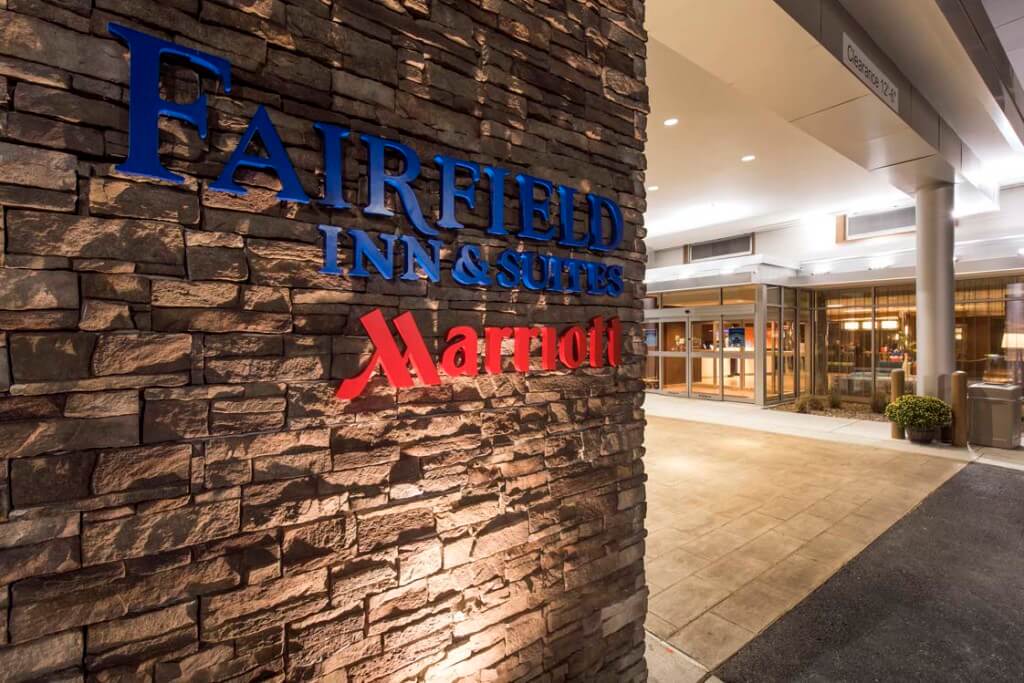 As a hotel photographer, it is my job to create images that help to set the property apart. Recent hotel reservation research shows that most online bookings are heavily influenced by hotel photos. Some online booking sites feature just a few images, so it is imperative that every shot sparks interest in the prospective guest. When photographing a hotel, I always provide an array of distinctive images that can be effective across many marketing platforms. If you are considering updating and improving your property's portfolio, I would welcome the opportunity to share my ideas. Please contact me at Architectural Photography, Inc.: 888-688-5510 or visit my website at ArchitecturalPhotographyInc.com.